SOUTHWIND KENNEL IS LOCATED AT:
100 PEAT MOSS ROAD
SWEET VALLEY, PA 18656
We are minutes away from Shickshinny, Dallas, Shavertown
Wilkes-Barre, Nanticoke and Red Rock. CLICK HERE FOR DIRECTIONS.
CALL 570-256-9770
or email us at swk4@ptd.net
OPEN ALL YEAR ROUND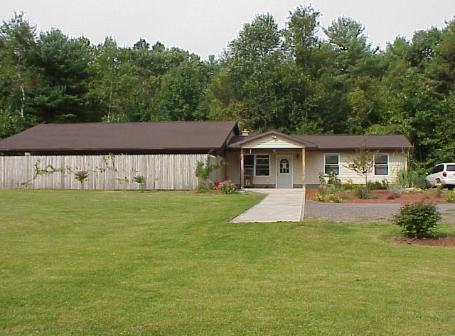 OUR HOURS:
Monday- Saturday:  8:30 am- 12 noon and 4 -6 pm
Sunday:  8:30 am -11 am
*Picking up in between hours is
not possible to ensure a stress-free, relaxing vacation for the dogs. The pets in our care
need quiet time also.
A BOARDING FACILITY LIKE NO OTHER:
*Large Heated/cooled individual runs for each dog
*Private covered patio for each run
*3/4 Acre fenced-in dog park
*Extra playtime available
*Dogs let out four times a day
*Access to Media/entertainment daily
*Party night every Saturday
MORE INFO:
 Our goal is to make your pet's stay as enjoyable,
relaxing, stress-free and fun as your vacation is for you. Leaving
your pet for any length of time can be stressful on both you and your
pet!
We can accommodate extra-large dogs or those that dig or climb. Our kennel is equipped with
air conditioning in the summer, and heat in the winter as well as
light from windows.
We offer individual, well-lit accommodations.
Each unit is equipped with walls between each boarder on the inside
as well as on the connecting outside patio play area. The outside patio play area
also has a full roof over it to keep your pet dry and shaded. Each pet
has access to media throughout the day, when we are not entertaining them ourselves.
The outside 3/4 acre play yard offers a way for the dogs to let loose and get their energy out four or more times a day.
We offer extra playtime in 30 min sessions (up to three in a day) for the more adventurous.
We have many forms of media/entertainment and individual attention to keep everyone occupied.
Who doesn't love a party night?!?!
Upon your approval, everyone is treated to an extra snack, fun music and extra love.
For those that have food allergies, we can use snacks that meet their approved diet.
You are more than welcome to bring your own special treats for party night.  no pet will be
without a "party night" of some kind whether it's treats or an extra
walk and hugs with lots of belly rubs!! This is, after all, their
vacation too!! Your pet's
vacation spot! His/her home away from home!!
Please feel free to click here for pictures of our kennel or click on
the links above.